Things to Do Nearby Humber Bay Shores
People from all over Canada and the world move to the GTA (Greater Toronto Area) to get a taste of what Toronto can offer. The cultural diversity, the world-class entertainment options and naturally beautiful scenery are all huge draws for many of the folks that move to and live in the area.
Humber Bay Shores, the waterfront community just 10 minutes from downtown Toronto, has all the charm and quaint amenities of a small town with the benefits of the city center, and urban living. With Lake Ontario, one of the largest freshwater lakes in the world, on Humber Bay Shores' doorstep, there is no shortage of things to do nearby.
Whether you are a single young adult, a newly married couple, a family with kids or "empty-nester" retirees, Humber Bay Shores has everything you need…and more. From Sheldon's Lookout to the Humber Bay Arch Bridge, the Humber Bay Butterfly Habitat and the Farmers Markets, you won't be left wanting things to do. So, just what exactly is there to do near Humber Bay Shores?
Activities and Attractions Near Humber Bay Shores
Humber Bay Park
Humber Bay Park is a one-of-a-kind, ideally located park that is minutes from anywhere in Humber Bay Shores. It is split into the East Park and the West Park, both of which offer different, but equally marvellous park experiences.
The East Park is smaller but has amazing walking trails that cross the park's ponds, granting access to the Air India memorial, Humber Bay Park East shoreline and a fantastic view of the Toronto skyline, including the CN Tower.
The West Park is larger and has 3 marinas, a dog park, two great lookout points and a large stretch of beach where swimmers can enjoy Lake Ontario.
Humber Bay Butterfly Habitat (HBBH)
The Humber Bay Butterfly Habitat, which opened in 2002, used to be nothing but an unused chunk of land. This undeveloped and barren area has been transformed into a beautiful park, filled with native plant species and shrubbery. Every year, this becomes a haven for all sorts of species of butterflies and other insects.
Located in Humber Park East, this gem gives parkgoers a wonderful place to take a break from one of the walking trails and take a rest. If the day is sunny and has very little wind, you can almost guarantee a couple of butterfly sightings that will make your day.
Sheldon Lookout
Sheldon Lookout has one of the best views of downtown Toronto to be found anywhere. Located just steps away from the Humber Bay Arch Bridge and on the western side of the Humber River, Sheldon Lookout is often recommended as a destination for those visiting Toronto.
Humber Bay Arch Bridge
Humber Bay Arch Bridge is an award-winning architectural masterpiece that many consider the crowning jewel of Humber Bay Shores. Built in 1994, the bridge spans the Humber River, connecting vital walking and biking trails and has become a critical part of the neighbourhood.
Any time of the day, you can find people snapping photos, jogging, biking, and just hanging out on the bridge. It is well-lit at night, making it a great spot for late-night photography or a romantic walk.
Jean Augustine Park
Wouldn't it be great to have a park named after you? For such a thing to happen, you will have to do some amazing things. Jean Augustine is a Canadian woman who has indeed done some amazing things.
She is the first Black woman to be elected to Canada's parliament and has been instrumental in helping put forth culturally significant and necessary legislation. The park was renamed in her honour in 2010 and since then, the park, which is located near Mimico Creek, has continued to provide a haven for residents to rest, relax and enjoy the neighbourhood.
Humber Bay Park E Trail
Feel like going for a refreshing, light jog? The Humber Bay Park East Trail is exactly what you need! The 2.5 km trail consists of a loop that runs around the length of Humber Bay Park East, giving you a full-circle experience of the entire park.
Do you have a dog that will be joining you on your lovely jaunt? They are more than welcome to enjoy the park with you but you will have to make sure that you keep them on a leash.
Martin Goodman Trail
What if a light jog isn't what you are looking for? Maybe you want to go for an extended run or maybe just a long walk? The Martin Goodman Trail has everything you need.
At 56 kilometres long, the Martin Goodman Trail connects you to all the wonderful spots along the waterfront of Toronto. From one end of the city's lakeshore to the other, the trail is great for long trips or small, leisurely walks. The Martin Goodman Trail is actually, in its entirety, only a portion of the Waterfront Trail which is a 730 km trail that circles Lake Ontario. So, if you are feeling really ambitious, there is always that trail to tackle as well.
Sunnyside Boardwalk
What once was Sunnyside Amusement Park is now Sunnyside Boardwalk. The boardwalk runs along a series of parks, providing easy access for cyclists and pedestrians.
The Sunnyside Amusement Park was a very popular park that ran along the waterfront that was demolished in 1955. Now, while not an amusement park, it still provides a place for fun and excitement for kids and adults of all ages.
During the summer months, you can enjoy a refreshing dip in the Sunnyside-Gus Ryder Outdoor Pool located along the boardwalk itself, which claims to be the largest and best outdoor pool in the city. It's located just a 15-min walk east of the Humber Bay Arch Bridge.
Palace Pier Park
Palace Pier Park is the first thing you step into when you leave the South end of the Humber Bay Arch Bridge. A beautiful grass space with benches and a beautiful view makes this park a prime spot for a picnic. Located just next to this park are Sheldon Lookout and both the Palace Place and Palace Pier condominiums buildings, named after The Palace Pier.
The site was originally meant to hold a European-style Pier that had rides and festival-type events and activities. The plans were never fully realized and the site eventually became the home of the condominiums, which eventually sparked the growth that led to Humber Bay Shores.
Humber River Recreational Trail
For an easy yet satisfying journey, the Humber Bay Recreational Trail provides an exciting and scenic adventure without the physical demands of a nature hike.
The 19 km trail is almost completely paved in asphalt, with some crushed stone and gravel areas, making a perfect trail for bird watching, biking or walking.
Humber River
Is a beautiful river hike on your list of things to do? It should be! The Humber River runs right through Humber Bay Shores, emptying into Lake Ontario. There are about 750 streams and creeks that empty into this river on its way to the lake, making it a sight to behold. You can cross it on the Arch Bridge or you can walk along the edges to see the river and the plants and animals that call it home.
Bike Share Toronto
Have you ever felt the urge to go biking just to realize that you don't own a bike and your biking dreams may never come true? Fear not! Bike Share Toronto has you covered.
The Bike Share Membership gives you access to conveniently placed bikes, all over Toronto. 6,850 bikes in 200 locations, to be exact. No more waiting to enjoy the hundreds of kilometres of bike trails just outside your door. You can sign up and get biking today.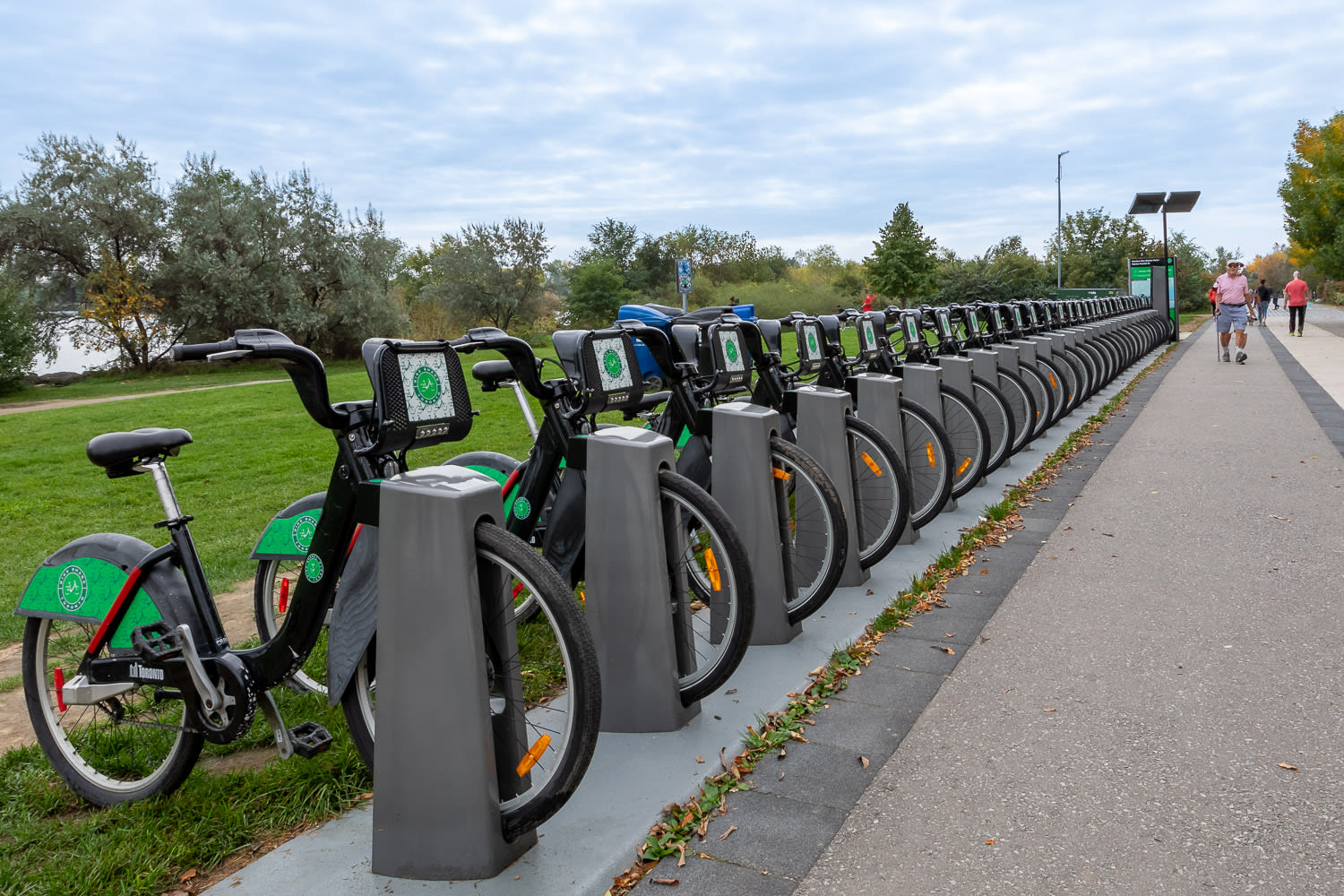 Parking Lots
When it comes to beautiful parks near large urban centers, the parking situation is often less-than-ideal. Not in Humber Bay Shores. There is plenty of parking available, particularly in Humber Bay Park East and West.
Farmers' Market (in Humber Bay Park West)
The Humber Bay Shores Farmers Market is well known as one of the best farmers' markets in the city. Its location, the variety of products and the atmosphere all make for a memorable visit. If you happen to live nearby, the farmers' market is very likely to become a regular destination for you, your family and your friends.
Open every Saturday from the end of May to the beginning of October, this farmers' market will provide you with the diversity of options you would expect from a farmer's market on the edge of Canada's largest city. Enjoy!
Humber Bay Shores Dog Parks
Humber Bay Shores Park West is a beautiful dog park located on the southwest tip of the park. For dogs, it's a great place to run, play and meet new friends. For the humans accompanying those dogs… it's great for those things too!
Humber Bay Shores: Never a Dull Moment
Humber Bay Shores, with all of its activities and attractions, will give you options for adventures and escapades all year round. Regardless of your demographic, Humber Bay Shores will provide the environment for you to flourish in all seasons. Come and enjoy Humber Bay Shores today.
Learn More About Humber Bay Shores
💥THE ULTIMATE COMMUNITY GUIDE💥
Imagine having all the insider tips, local hot spots, and the best-kept secrets of this lakeside haven. Now you can with our Comprehensive Community Guide for Humber Bay Shores.
Click below to learn more about getting your copy of this free guide and everything you need to know about this extraordinary community!